I'm proud to say, that I have kept up my daytimer! If you recall, I talked about getting a calander to put all my appointments and such on...and then lost it. Then I bought another one...
Well, I took a snapshot to prove I'm doing good!!! It has been a real lifesaver also. Yay me!!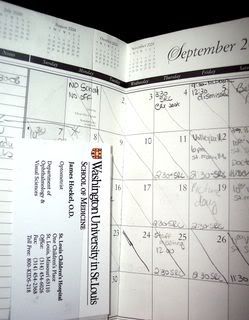 Also, that darn dog of mine. He is thisclose to getting a shock collar around his neck. It's a good thing I'm such a sweet wonderful person, or else he'd be living with a bunch of other yiping freaks looking for good homes. :)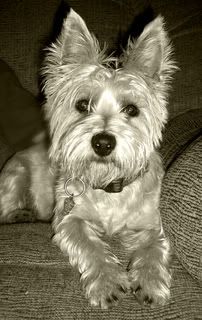 And in closing today, I would like to say that I am appalled and disgusted at our local radio station 101.1. Up until this weekend, they were playing music that I, and my girls, enjoyed. This station would be on in my car, in my daughters room at night and while at work. But now....to my perturbed dismay.....they are a 24 hour Christmas music station.
It's October 12th or something, you stupid heads!!!