Once upon a time, there was a backyard. A mom was getting ready to fill up the baby pool for the kids to play in. Then all of a sudden...what did she see??? An alligator, in her CITY YARD?????
She was frozen with fear. In a blip of a moment, she was thinking how grateful she was that her children were safe inside, and was looking for the best way to jump over the fence to get to her neighbors phone to call Animal Control. But just then, he got his first victim....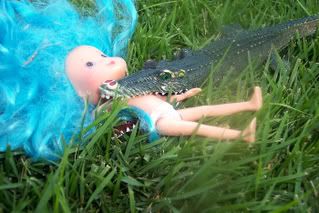 As she screamed a bloody murder scream, she watched in horror as this giant baby, wearing only one shoe, on the wrong foot, came and started stomping this killer alligator to death. All it took was three swift stomps, and he was a gonner.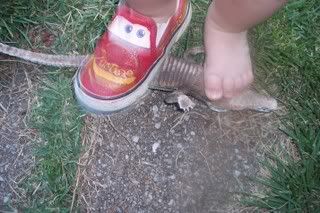 After he was dead, the mother felt safe again, and went back to filling her pool with water. Just another day in the life of a mom.